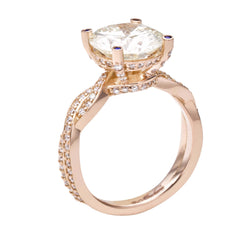 EMAIL US FOR PRICING AT CONTACT@MISAHARA.COM
One ring. One Journey. Two lives.
Nature and love come together in this beautiful symbol of love and unity. The intertwined shank on the engagement ring represents two lives coming together leading up to the one, single life shared forever—the center diamond—which sits apart and above the band representing the limitless possibilities for the future just as a sky on a clear day. Four blue sapphires, as truthful and tranquil as the Adriatic Sea, are set on each prong representing the boundless, honest love of the journey that is seen through the couples blue eyes.
3.04ct KVS2 center white diamond, .53ct white diamonds, 4 blue sapphires set in 18K rose gold.
At Misahara we are very confident that our fine jewelry will meet and surpass your expectations. However, if you are not completely satisfied for any reason, you may return for a refund within 7 days of receipt in their original packaging and in unworn condition. We reserve the right to not accept an exchange and may require a repair fee if the item has been at all damaged or worn. While our policies are firm for obvious reasons, we will do everything we can to work with you and make sure your experience is positive.
Special custom orders are final sales and cannot be returned or exchanged.
All return inquiries should be directed to orders@misahara.com
REPAIR POLICY
Misahara Jewelry at our sole and absolute discretion will offer a free repair within 4 months from the purchase date. In order to arrange the return shipping, please contact orders@misahara.com and inform us with the style reference and the date of purchase. Shipping, duties and taxes is not Misahara's responsibility with repairs. Repairs do not come with any guarantees. All repairs must be approved by Misahara prior to sending. Misahara reserves the right to deny unreasonable repair requests.
All repair inquiries should be directed to orders@misahara.com.
Misahara loves this planet and while we create beautiful jewelry, we also want to help preserve the place that has inspired our designs. We make every effort to remain sustainable by using recycled gold, repurposing stones, and reimagining designs on a regular basis. All of our gemstones are sourced from ethical mines where the workers are treated fairly and the communities are supported. A great example of this is our partner Gemfields (Sustainability | Our Approach | Gemfields), a UK-based emerald and ruby mine. They make tremendous efforts to give back to the local areas in Africa where the incredible gems are sourced.
In addition, Misahara's diamonds are sourced from Kimberley-certified sources and are not involved in funding conflicts. To prevent the sale of conflict diamonds, governments, our industry, and human-rights groups established the Kimberley Process Certification Scheme in 2002, which today regulates 99% of the rough diamond supply.
Misahara is also part of Jewelers of America (About Jewelers of America | Jewelers of America), a renowned organization that only allows members who adhere to responsible jewelry-making. Since 1906, Jewelers of America has been ensuring consumer trust in the jewelry industry and its products. As the leading non-profit jewelry association in the United States, Jewelers of America advocates professionalism and and adherence to high ethical, social and environmental standards.